Mobile home rental at camping Equinoxe in Argelès sur Mer
The surface area of the mobile homes varies from 20m² to more than 30m², they have 2 bedrooms (except for 1 bedroom or 3 bedrooms):

– one bedroom with a double bed and one bedroom with 2 single beds (blankets provided).
– The living room can sleep 2 other people (for mobile homes of 6 people)
– A bathroom with toilet, shower and washbasin
– A kitchenette with crockery kit, gas rings, fridge, microwave, etc.
– Garden furniture to take full advantage of the open air.
– Electricity (10 Amp.), hot and cold water and gas provided.
The mobile homes can accommodate from 4 people (for the smallest) to 6 people (for the medium and larger).
The age of the mobile homes ranges from 1 to over 15 years.
The campsite also offers (at extra cost) mobile homes with terrace and air conditioning.
Reservations are possible, please contact us now. - Mobile home rentals from April 1st - Pitches rentals from May 1st
Mobile home rental : Mobile home 2/4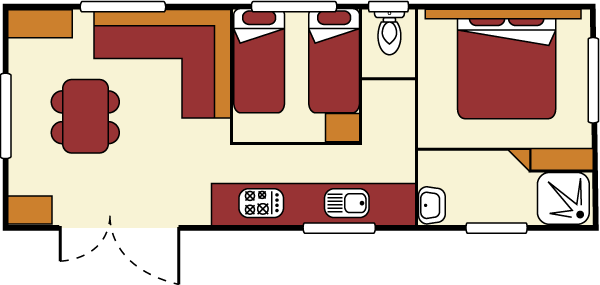 Mobile home rental : Mobil-home O'Hara 4/6
Mobile home rental : Mobile home 4/6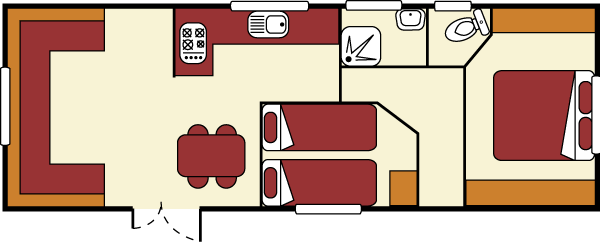 Mobile home rental : Mobil-home O'Hara Trigano 4/6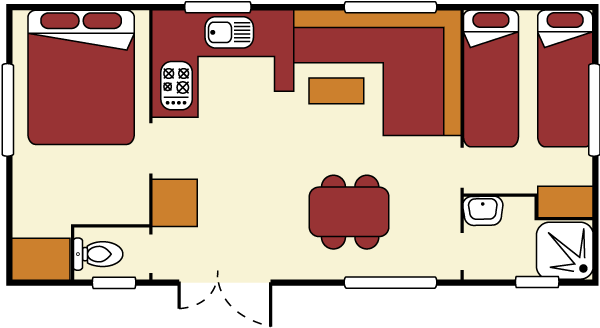 Mobile home rental : Mobil-home Confort 4/6
Mobile home rental : Mobile home IRM 4/6 3 bedrooms
Mobile home rental : Mobile home IRM 4/6